Mastermind Tuscany Retreat
The place where thought-leaders meet, where the future is discussed and where new ideas are born.
Join us for a 3-day (October 8th – October 10th) digital marketing retreat in the heart of idyllic Tuscany and deep dive into the world of digital. Take part in 1-on-1 discussions and workshops with world-renowned business and digital marketing leaders and gain new knowledge while relaxing and enjoying great Italian delicacies surrounded by picturesque nature.
What to expect?
By participating at the Tuscany Mastermind you will be able to enjoy a well crafted and eclectic program that will include a perfect blend of diverse activities: workshops, unconference sessions, networking activities, mindfulness sessions, wine tasting, and group lunch.
Tuscany Mastermind gives you a unique opportunity to connect with top industry leaders, share your thoughts and fears, get advice, and accelerate your personal and business growth way above industry standards.
Get ready to meet a community of like-minded, results-driven, and mindful marketers. We'll talk about marketing, business, life, and bold dreams.
Check the package
This intimate group setting provides the opportunity to have one-on-one and small-group discussions with our speakers and like-minded attendees about the topics that matter most to you.
Are you ready to join us for a retreat filled with business brainstorming, marketing workshops, mastermind sessions, and 1:1 coaching in a soulful, inspiring, and beautiful location?
What prior attendees are saying!
Check out what past attendees are saying about their experiences at Mastermind Tuscany Retreat!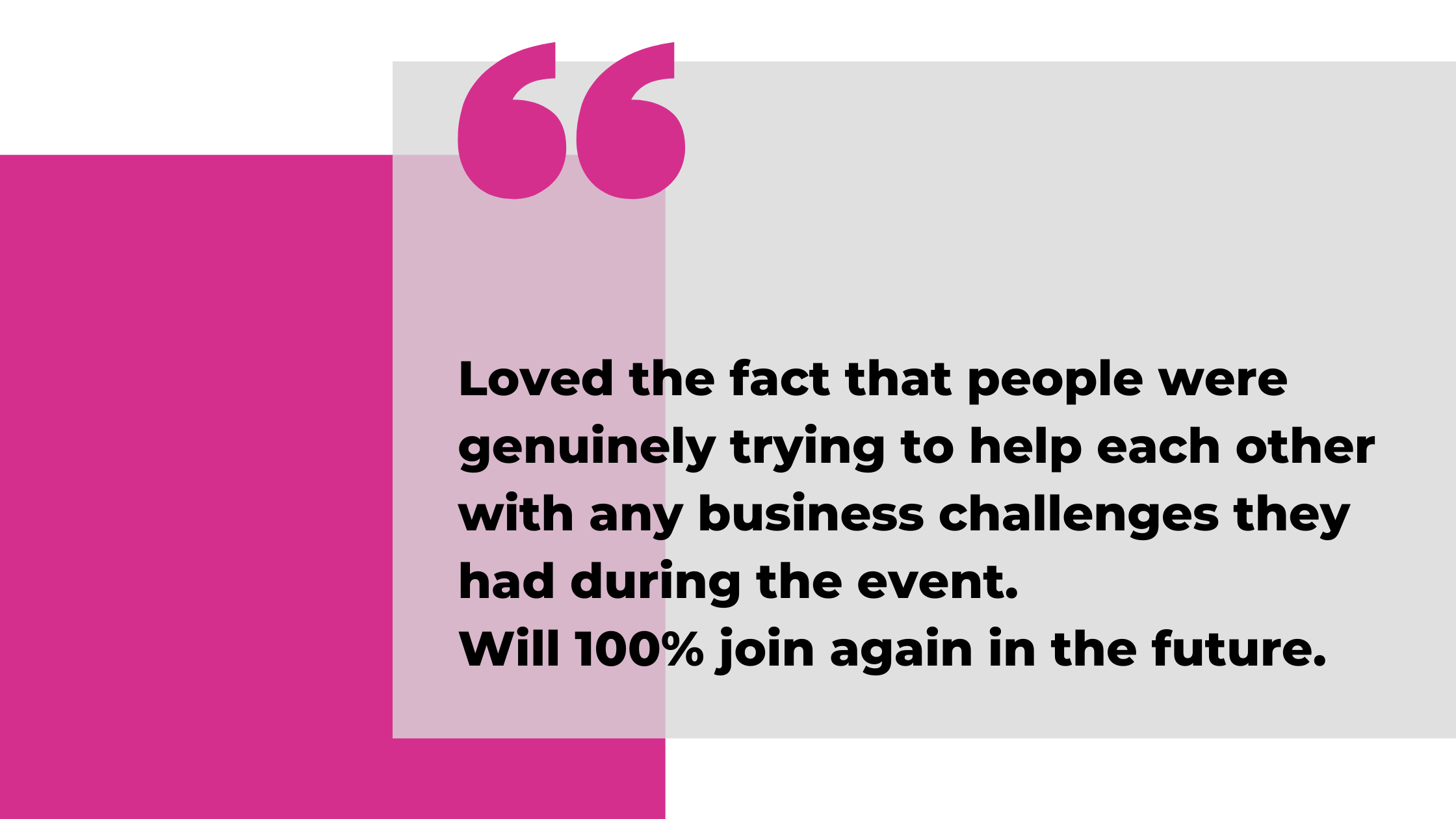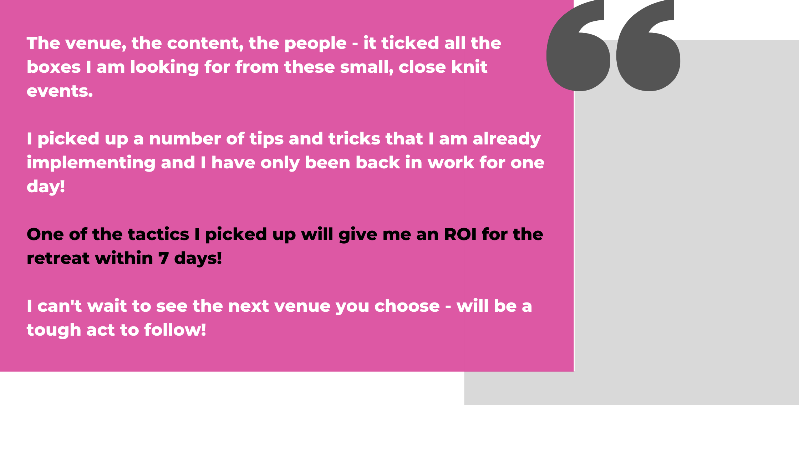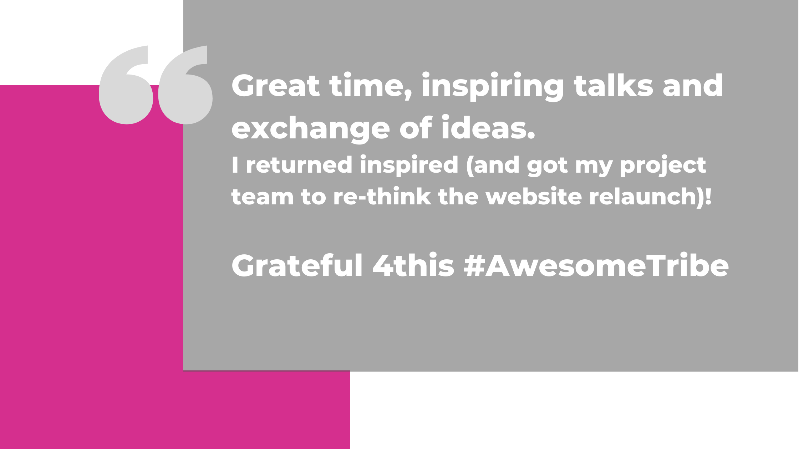 Inspiring and provoking conversations that matter.
Our unconference in a word by our attendees: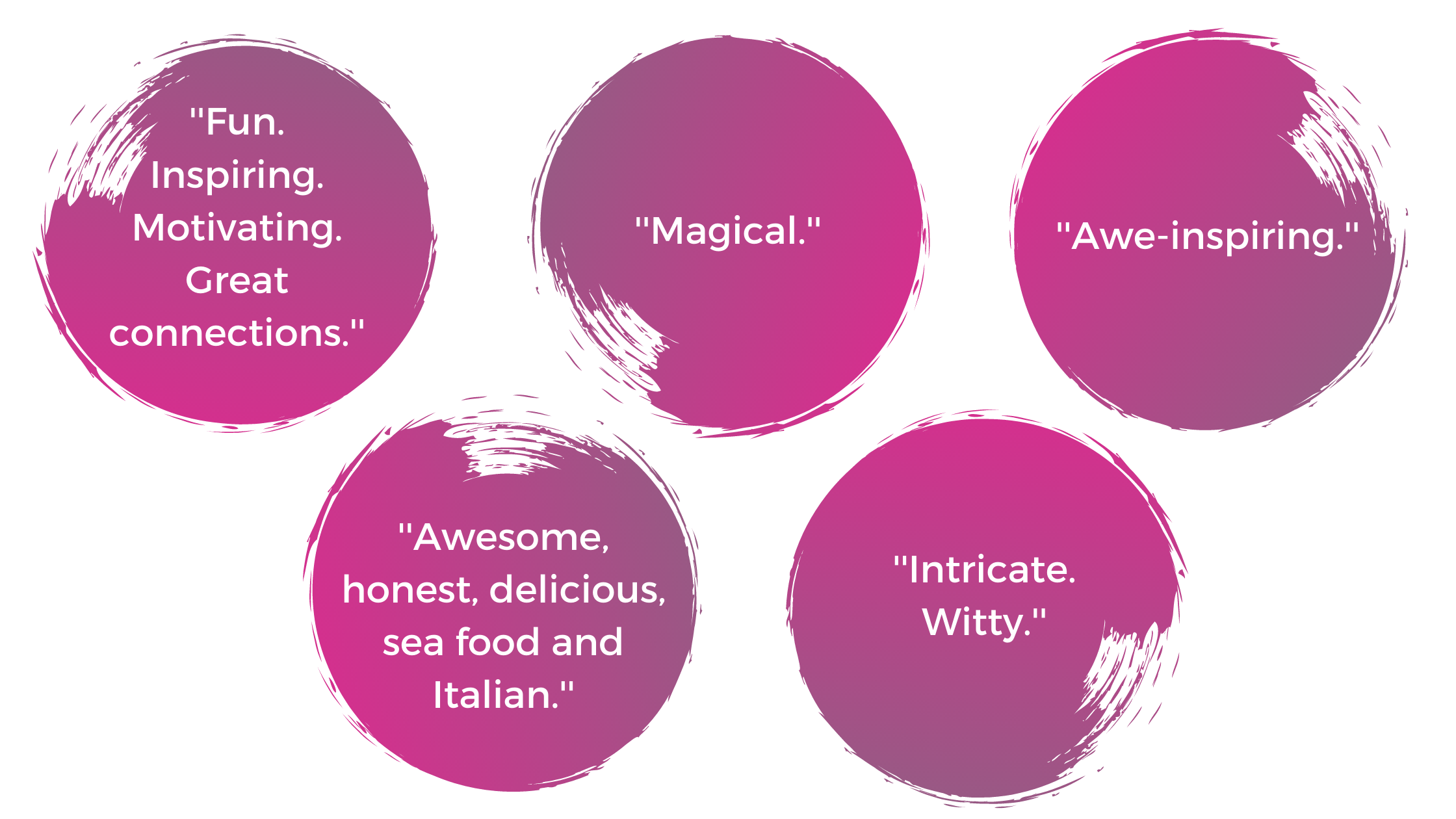 Join us and catch the spark of inspiration for your next business idea!
Unconference format
This retreat is all about you and your wishes. It's precisely what an unconference is about: a participant-oriented meeting where you get to propose the topics on the spot.
A mastermind group is a meeting of highly motivated individuals who are looking to encourage and help each other improve their business and discuss the topics that matter most to you.
The location – Tenuta di Artimino
Majestically set among the Tuscan Hills, Tenuta di Artimino is the perfect example of Italian hospitality. Rich in history and with a magnificent view over the amazing scenery, this former Etruscan settlement will leave you in awe with its sophisticated architecture, distinguished wines, and local cuisine.
This will be your playground for networking, in-depth discussions and chill time.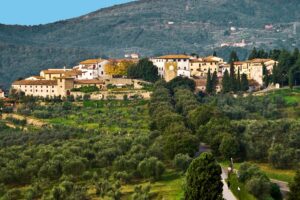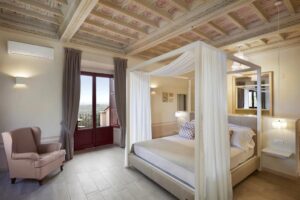 Artimino covers 730 hectares – plenty of space to explore the Tuscan hills, enjoy a glass of their homemade wine, indulge in their spa or simply marvel at the Villa Medicea, our event venue, and today a Unesco World Heritage Site! The cozy, elegant, Tuscan-style rooms will let you feel at home straight away. Every room is decorated in a unique way, comes with an ensuite bathroom and breakfast.
How to get here?
Less than 2h direct flight from over 250 locations in Europe. 30 minutes transfer from either Pisa or Florence airport (covered with our shuttle, so no need to rent a car).
Get inspired by the beautiful location and enjoy this relaxed setting to connect with our speakers and like-minded attendees. Truly, a one-time opportunity!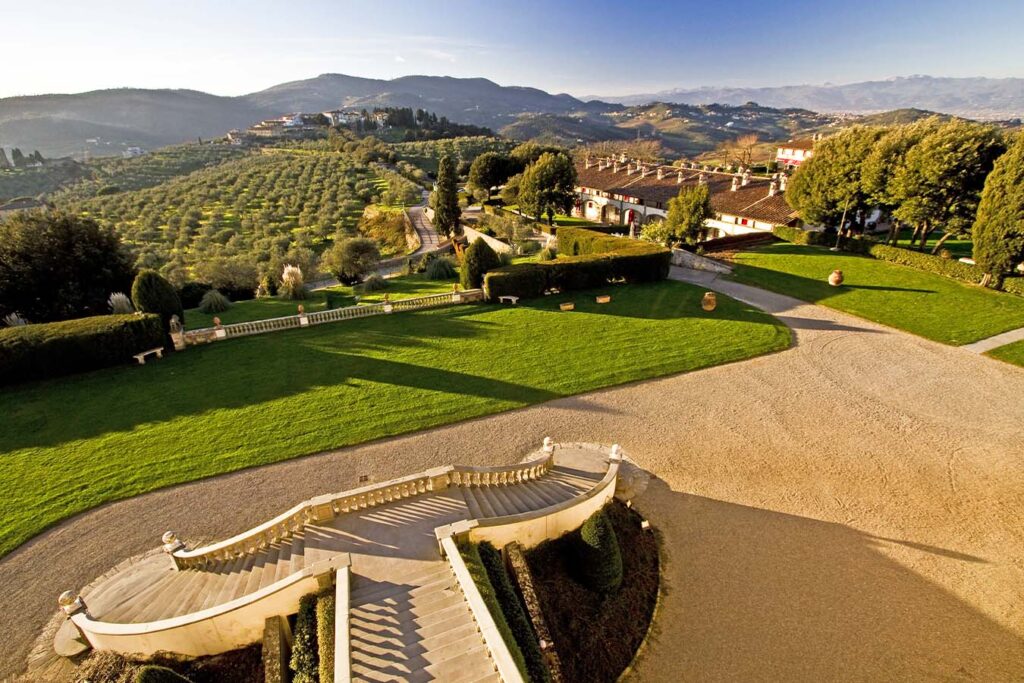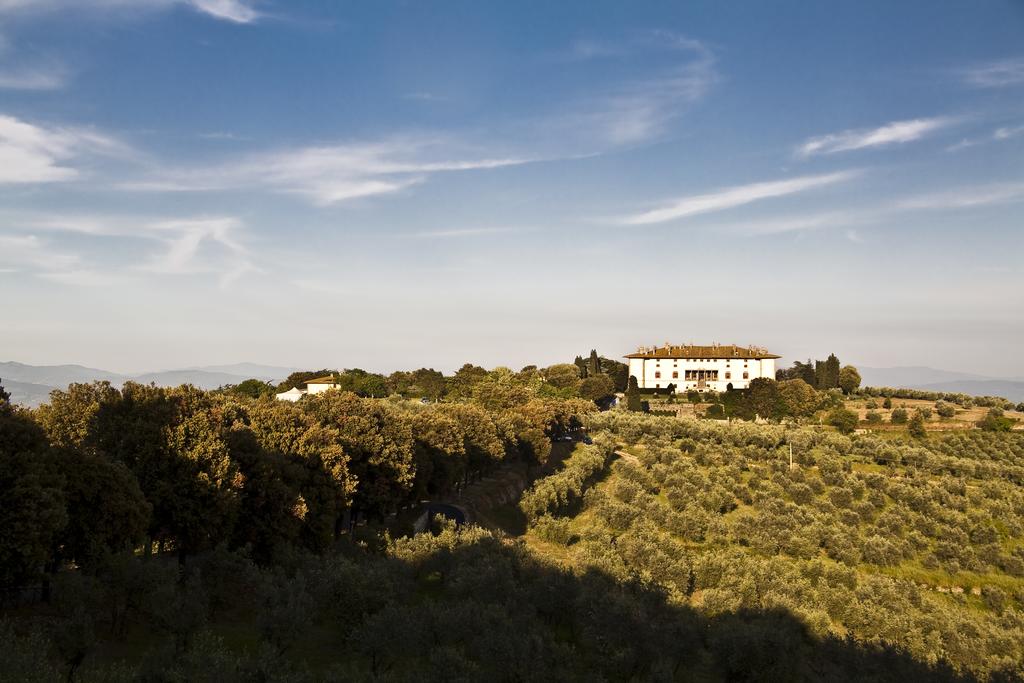 Treat yourself
This is not just about skills and knowledge, we want you to feel empowered, inspired, happy, and motivated when you leave.
Join us for our mindfulness sessions, treat yourself to delicious local food, or go wine tasting. We'll make sure this will be a trip to remember.
Who is this for?
No matter if you're a Marketing expert or beginner, an Entrepreneur or Agency Owner, our Digital Marketing and Business topics will guide you through a process that is relevant to everyone.
We will dive deep into B2B and B2C strategies, and explore with you basic and advanced tactics and tools so that you become a pro in acquiring, engaging, and retaining your customers.
4 reasons to join
1. Get exclusive access (limited to 30 people) to the smartest minds of the industry.
2. Enjoy high-level discussions and receive personal feedback from our speakers – you will never get any closer than that!
3. Make friends for life & join our community of online entrepreneurs and change-makers.
4. Take time to relax and enjoy Tuscany and everything this region has to offer. Enjoy the food and wine or join our yoga session.
Worry Free & All-Inclusive
EARLY
BIRD
Limited to 30 Participants!
2 nights in an exquisite 4-star accommodation
Access to all speakers & workshops
Networking & Wine-Tasting
Coffee-breaks and snacks throughout the day
Shared transfer to & from the airport
Access to the Wellness Center, Sauna and Pool
Limited Seats available! Not included: Flights and dinners. Everything else will be taken care of. There are several restaurants in walking distance.
For only 87€ extra you can surprise your better half with a 3-day getaway to beautiful Tuscany. Share a spacious bedroom and have your partner enjoy a delicious breakfast, the pool, spa area and the group's evening program.
Bring your better half along!
2 nights in an exquisite 4-star accomodation with your partner
Access to the group's Evening Program
Access to all Hotel Facilities
Available together with your Retreat Package!
Program
Day 1 · Thursday, October 8th 
Arrival
Arrive at Florence or Pisa Airport no later than 1 PM & catch one of our direct shuttles.
Check-in
Check-in at Artimino Hotel by 2 PM.
3-6 PM Workshops
After an introduction round, we'll dive in straight away.
Wine Tasting
Taste Tuscany's best wines while making new friends.
Day 2 · Friday, October 9th
Morning Meditation
Start the day right!
10 AM-1 PM Workshops
More workshops, more input, more learning.
Lunch
Make new friends over some real Tuscan delights.
Mastermind
Tell-alls, hot-seats, mastermind groups.
Evening Walk
Let's explore together the Tuscan hills – over some good conversations.
Evening Program
With a little surprise!
Day 3 · Saturday, October 10th
10 AM-1 PM Unconference
Choose your own topics!
Lunch
More conversations over more delicious food.
Check out
Check out at Artimino Hotel by 3 PM.
Shuttle
Catch our shuttle back to the airport or arrange to stay longer.
Speakers:
Leonardo Saroni
Ad Tech & Growth Marketing
Results-oriented marketing and technology professional with 15+ years of experience in leading teams in the areas of Growth and Performance Marketing, Advertising Technology, Partnerships and Product development. Entrepreneurial, customer-focused and always ready to engage in forward-thinking initiatives for the business. Proponent of iteration, experimentation and getting things done.
---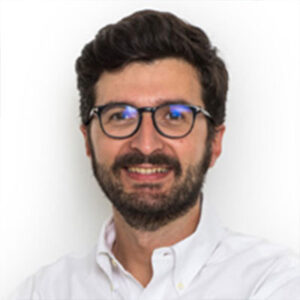 Gianluca Binelli
Founder | BoosterBox
Nerdly handsome* founder of Booster Box, a scientific performance marketing agency, I'm using my love for numbers and PPC to build Silicon Tuscany.
In the age defined as BBB (Before Booster Box) I spent 6.5 years in Google across Dublin, NYC and London. I managed online marketing for Google's products in EMEA and was an advisor for Google's own equity fund Capital G.
In 2016 I set up Booster Box and have been sprinting to grow as fast as possible ever since. It appears to be working! We've recently won the European Search Awards as Best Small PPC Agency and have been shortlisted in other major digital marketing competitions such as Search Engine Land and UK Biddable Media Awards.
I'm a regular fixture at global digital conferences such as Hero Conf, AdWorld Experience, Web Marketing Festival, and more as an invited speaker. I was also recently named the 2nd Most Influential PPC Expert in the World by PPC Hero. In my spare time, I mold young minds at the University of Pisa in digital marketing.
*my mum says yes, wife said no
---

Kirsty Hulse
Motivational Speaker & Author & Thought Leader
Kirsty founded her first company Manyminds at 26, a marketing agency with global clients like Virgin Atlantic and IBM which turned over nearly a million dollars in its first year of trading. In 2 years, she scaled the business to a team of over 50 independent, remote staff, disrupting a traditional landscape.
She is also the founder of Roar! Training, which has been described as "game changing", "life changing" training.
Kirsty also wrote a bestselling book and she's a standup comic, having performed a show at the 2017 Edinburgh Fringe.
---
Jono Alderson
Special Ops | Yoast
Jono is a digital strategist, marketing technologist and full-stack developer with two decades of experience in web development, SEO, analytics, brand and campaign strategy, lead gen and eCRM, CRO and more. He's worked with startups, agencies and some of the world's biggest brands to fix websites, implement growth strategies, prepare for the future, and win markets.
---
Arnout Hellemans
Freelance Search & Analytics consultant | Onlinemarkethink
Some people call what Arnout does growth hacking; he doesn't like this term. In his own words, this is what he does; "I just make sure a business gets the most out of their online activities by leveraging Google Analytics and other data points." This results in an online strategy focused on paid and organic search, social interactions, and the correct understanding of the ROI for his clients. Getting the most value out of the possibilities the online world has to offer, through the smart use of Google Analytics.
He has been working for smaller companies (Sitly.com), large publishers like TNW (thenextweb.com), and large corporations like LeasePlan and NatWest group. And you might have seen him on some of the Semrush webinars or quite a few podcasts and he has been speaking at industry events like Ungagged London 2016 SMX London, Digital EliteDay and InOrbit19 and InOrbit20. Online since 1992, in Online Marketing since 2007.
---
Nelly Garkova
CIO | Interamplify
Nelly is CIO at Interamplify, joined the family only a year and a half ago she quickly became a key figure in the international projects of the company. Experienced marketing professional and skilled at leading SEO off-page projects, preparing tailored link building strategies for every niche. Passionate marketer who is able to offer solutions for every business.
---
Mark Colgan
Chief Revenue Officer | TaskDrive
Mark Colgan is Chief Revenue Officer at TaskDrive and a TechStars '18 Alumni. After spending 4 years in Sales and Recruitment roles, he pivoted his career 7 years ago to focus on Marketing.
Today, Mark works with companies across multiple industries helping them build repeatable, profitable and scalable sales models combined with effective Social Selling and Marketing.
Mark is also passionate about how Sales and Marketing Automation can be adopted alongside strategy in order to drive revenue growth in businesses.
---
Magda Kay
Intimacy Coach
Magda Kay is an international Intimacy Expert, Tantra Teacher and a Relationship Coach for Men, Women & Couples. In her work she combines ancient teachings of sacred sexuality, yoga and energy work, together with psychology and human behavior. She has studied in Nepal, India, Thailand and Bali, in various schools, having gone through many personal initiations. Today she travels the world helping normalize the conversation about intimacy and unlock the flow of sexual energy for more passion and aliveness in every person's life.
---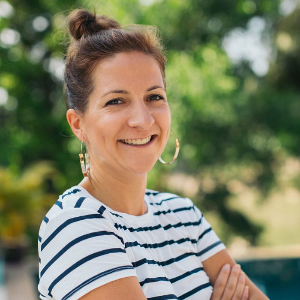 Jasmin Metzger
Business Hippie | Life Experience & Female Pleasure Coach
Jasmin's passion is to empower others to live a blissful life, a life full of happiness, joy and fulfillment. Having worked in the corporate world herself for a decade, she understands well how challenging daily life can be and finding that balance between thriving in your job and feeling well. Taking a creative time-out to travel and find the purpose of life 6 years ago, she dived deep into studying Eastern philosophies and sent herself on a journey of transformation. The practice of mindfulness, yoga, meditation and self-reflection has changed her life completely. It not only helped her manage stress better and find that place of peace and power inside. It has given her the tools to find her purpose and manifest her vision of life. She loves to inspire and support others to realize their dreams.
Jasmin holds a BA in Business Communications and currently works as a Head of Communications & Marketing for an NPO as well as a Life Experience and Female Pleasure Coach. She has studied over 1000 hours of Hatha Yoga, Tantra, meditation and mindfulness and has trained as an Ashtanga Vinyasa Yoga teacher in India. Jasmin has taught groups and worked with individuals in India, Switzerland and Thailand.
---
Andraž Štalec
CEO | RedOrbit
I'm the CEO and co-founder of the Award-Winning Performance agency, Red Orbit.
I'm in love with data, analytics, performance, and e-commerce. I'm also a European Search Awards judge, Google Certified Trainer, and a regular speaker at major international digital marketing events: DMSS Bali, Leicester digital live, Measurefest, E-commerce & digital marketing EXPO (ECDMEXPO).
From starting in web development in 1995 to being an early adopter of Search Engine Optimization, Paid Search and Web Analytics, to co-founding and bootstrapping Red Orbit to become one of the leading performance agency in Europe.
---
Do you have any questions?
Contact us via e-mail at [email protected] or call +386 59 075 680.
We'll be happy to answer any questions you might have.