Information
Get the information you need, read about the conference history and find about what we are planning for the future!
WHAT IS inORBIT?
InOrbit is not just a conference, it is an experience! Just like every year, on 16th & 17th March we are going to:
Listen to some of the brightest digital marketing minds from all over the world,
learn in hands-on workshops,
discuss your topics with top experts,
mingle with like-minded people,
and have loads of fun!

WHY SHOULD YOU JOIN US AT inORBIT?
You hear the best international speakers covering the trendiest hot topics on digital marketing, e-commerce and business growth.
inOrbit takes care of both: strategic overview of situation on the market you need as a manager and deep dive into topics that digital marketing specialists need to stay sharp. Two tracks are conveniently separated into Strategy and Deep dive track, so your team can cover both aspects.
You can take advantage of plenty of networking opportunities where you can renew your connections and create new business paths with several hundred attendees looking to do the same.
You can let your hair down at the Epic inOrbit party and just loosen up. inOrbit is a community, where we grow and have fun as well.
Take care of your business and personal growth at inOrbit, there are always off-conference activities for your body, mind and soul.
inOrbit 2023 will happen on 16th & 17th March in Grand Hotel Bernardin (Portorož, Slovenia). Create this fantastic experience with us. See you there.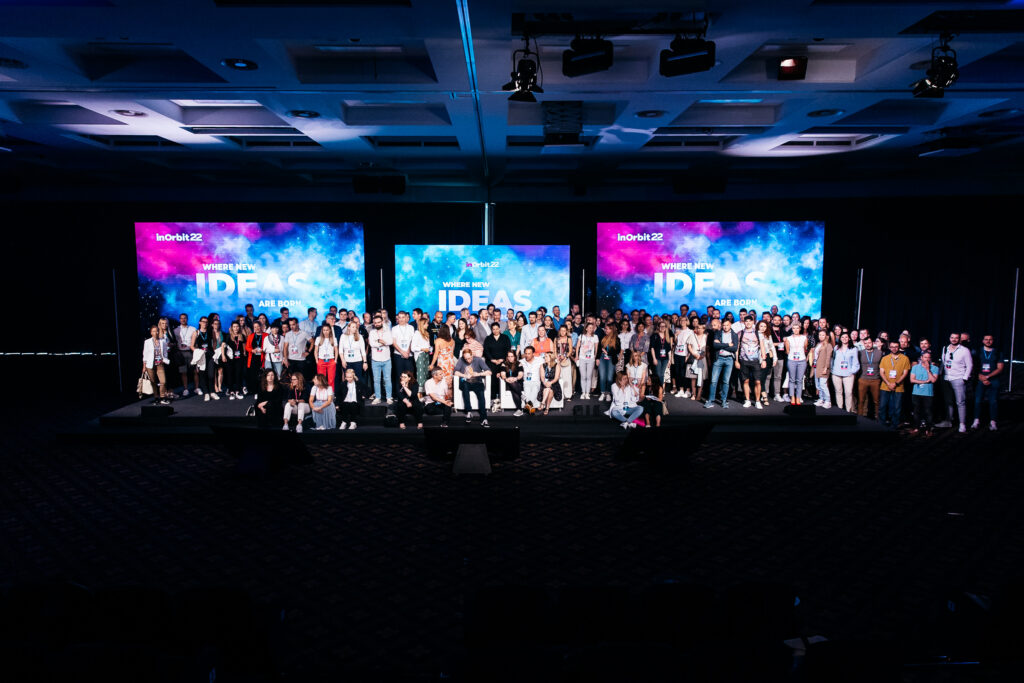 Subscribe to inOrbit newsletter and receive the latest news, important information, and updates on inOrbit23!
On 16th & 17th March inOrbit returns to the stunning Slovenian coastline. In Portorož, at one of the most photogenic venues in Europe, in Grand Hotel Bernardin,  you grow your business while enjoying the million-dollar view of the Adriatic Sea. Work smarter, not harder  – the cliche that actually works at inOrbit! 
Grand Hotel Bernardin, a 5-Star Luxury beach-front resort will set the perfect stage for optimal learning, networking and relaxing.  Stay for the 2-day retreat, or add on extra days to truly unwind.
Just imagine. You wake up, grab a cup of coffee and walk down to the private beachfront, for a morning stroll (jog, or yoga session, whatever works for you!) while you enjoy the warmth of the morning sun and soothing sounds of crashing ways. It doesn't get better than that, does it?
But it does! You spend the conference hours networking with some of the smartest marketers in Europe and getting top-notch knowledge and know-hows, and your day ends perfectly on the terrace overlooking the Gulf of Piran and/or at the epic inOrbit party (do both, you can't go wrong with both).
Now is the time for you to commit to your success in 2023 and beyond!  You don't want to miss out on the premiere digital marketing event of 2023!
Hotel Histrion 4*
A 4-star hotel 5-minute walk from the inOrbit venue, rooms with breakfast from 122€ when booking via the button below.
Book now
Tickets
What are the ticket prices?
You can find the ticket prices at inorbit.si/register, with the special, limited deals, grab them at best rates before they are gone.
How do I receive a ticket?
After you register for the event and pay the registration fee, you'll receive an order confirmation e-mail with the ticket and an invoice from Eventbrite ([email protected]). That's all you need. When you arrive at the event, show us the ticket and our helpful staff will take care of the rest.
What do I get with a ticket to the conference?
We offer three different tickets, one is the Conference ticket, that gives you access to both Strategy and Deep Dive track, all off-conference activities, all networking events, but excludes lunch with attendees and workshop that will occur on Friday afternoon (in time frame of the conference).
The All Access pass includes all the Conference ticket includes, with the add on of self-service lunch with attendees in the Grand hotel Bernardin restaurant and access to the workshop that will be happening after Deep dive sessions are finished and before final Keynote.
The All Inclusive pass offers all that All Access does, with the upgrade of lunch with speakers of inOrbit conference in Grand Hotel Bernardin restaurant (including drinks) and gala dinner with inOrbit speakers on Friday evening (including drinks).
What happened to the Workshop day?
In 2023 we decided we will make the workshop attendance more time-friendly for our attendees and added them to the conference programme. That also means less workshops we have to offer, but rest assured, both workshops will still be on most-wanted topics, with the best speakers and hands-on application of knowledge. The two workshops will happen right after the Deep dive sessions will be finished and will still be limited to smaller group, so you have enough time and opportunities for exploration of the topic.
Do we get any discount for multiple tickets from the same company?
The more the merrier! We have sweetened up already great deals with 20% discount when purchasing 4 tickets! This doesn't apply to Super Early bird prices.
Where will inOrbit conference and inOrbit Workshop day take place?
The entire inOrbit event, workshops and conference will take place in Grand Hotel Bernardin, a 5 Star Luxury beach-front resort in Portorož.
What's the cancellation policy?
If you can't attend the conference for legitimate reasons but have already paid for the ticket, send us an email to [email protected], giving us more details, and we'll get back to you. .
Can I transfer my ticket to someone else?
Yes. That's possible. Send us an email to [email protected] with your name and company, as well as the name, email address, and company name of the person to whom you'd like to transfer the ticket.
Conference & lectures
For whom is the inOrbit conference intended?
InOrbit has valuable content for every profile of digital marketers. It doesn't matter if you're a project manager, paid advertising specialist, SEO specialist, chief marketing officer or a strategist. InOrbit covers a wide range of topics aimed to give both strategic knowledge and in-depth tips and trick relating to specific marketing approaches. The focus is on growth, especially on consumer behavior, digital performance and digital disruption. Our aim is to equip you with all the knowledge you need to build a successful digital team, department, company, strategy, and activities that will bring you the results you need and grow your business.
What are the conference dates for inOrbit 2023?
March 16th and 17th 2023.
In which language will the conference be held?
Everything at inOrbit will be in English.
Do you share slides from the event?
We'll be collecting all of the speaker presentations which we are permitted to share and will email all of them to attendees. If you missed a talk you wanted to hear, don't worry – you'll be able to access the slides later. Some of our speakers are bound by copyright or licensing agreements and therefore do not permit us to make their materials available for download.
DON'T HESITATE TO CONTACT US
If you have any questions about the conference, speakers, programme or the conference format, inOrbit team is here to make sure you have a great experience.
CONTACT INFORMATION
 Stegne 13G, 1000 Ljubljana, Slovenia  
+386 590 75 680
[email protected]
 Everyday 9:00-17:00
Speaker
Do you want to share actionable insights, underground marketing strategies, and conversion hacks with other marketing professionals? Join the stars on the stage.
Apply now
Partner / Sponsor
Since 2015, inOrbit has been recognized as one of the top conferences where excellent speakers share their expertise. Our conference attracts the most influential marketing professionals in the region and is the perfect way for partners to engage with the digital marketing community.
Apply now