Information
Get the information you need, read about the conference history or find a perfect accommodation during your stay.
WHAT IS INORBIT?
InOrbit started off as a small series of educational events featuring mostly local speakers. Thanks to the enthusiasm of the people involved, it quickly outgrew the small lecture halls.
In 2016, it moved from a cinema in Ljubljana to one of the finest congress venues Slovenia has to offer – Brdo pri Kranju, hosting almost 500 attendees and 20 international speakers during a two-day event.
In 2018, we moved to the beautiful coast of Slovenia and continued growing with 30 international speakers, who presented their ideas to 600 participants.
This year, the conference will be held between 19 and 20 March 2020 at Congress Centre Bernardin, with an additional E-commerce and B2B track to give attendees even more in-depth knowledge and value. If you're looking for even more knowledge and more insight, we will be running separate workshop sessions on 18 March 2020, for which tickets are sold separately.
Keep an eye out for our workshop announcements and flash tickets sales as each workshop will be limited to a very small number of attendees in order to ensure quality and hands-on activities.
Seize the opportunity and get your ticket now! Please note that this is a limited time offer, so make sure to secure it before the prices increase.
SHOULD I BE THERE?
InOrbit has valuable content for every digital marketer profile. It doesn't matter if you're a project manager, paid advertising specialist, SEO specialist, chief marketing officer or a strategist. You will discover strategic knowledge and in-depth tips and tricks relating to specific marketing approaches.
This year's focus is on growth, specifically consumer behaviour, digital performance and digital disruption.
Our aim is to equip you with all the knowledge you might need to build a successful digital team, department, company, strategy and activities that guarantee the results you need to grow your business.
GRAND HOTEL BERNARDIN
The prestigious Grand Hotel Bernardin is located directly by the sea, between Portorož and Piran.
Congress Centre Bernardin is the first and largest congress centre in Slovenia, and one of the premier congress facilities in Europe. It hosts numerous gatherings and conferences every year.
It offers a first-class wellness centre – Paradise Spa with saunas and various massages, and an indoor swimming pool with heated sea water. All rooms have private balconies overlooking the sea. The hotel has a luxurious private beach.
Venue address:
Grand Hotel Bernardin
Ladjedelniška Reber 15
6320 Portorož-Portorose
Register now
LAND OF DIVERSITY
In Slovenia, the sun shines more than 2,000 hours per year, so every season offers the opportunity for a pleasant break.
Also known as the Green Heart of Europe, Slovenia is located in Central Europe at the junction of the main European routes, making it easily accessible by car or plane. We have prepared a few pointers to make your journey smooth and easy.
Come and feel Slovenia.  😉
JUMP ON A PLANE
The main Slovenian airport – Jože Pučnik Ljubljana – offers daily flights all across Europe. Choose between airlines such as Air France, EasyJet, Turkish Airlines, Finnair, Transavia and more.
Distance from the airport to the inOrbit conference venue in Portorož: 140km
Portorož is also easily accessible from several other nearby airports, offering even more arrival options:
Trieste Ronchi airport (Italy) 65km to Portorož
Venice Marco Polo (Italy) 188km to Portorož
Venice Treviso (Italy) 184km to Portorož
HOW DO I GET TO THE VENUE?
The best way is to book a shuttle to the venue with GoOpti by clicking the link here. Their professional personnel will make your journey easy and comfortable, not to mention worry-free. Even if your flight is delayed, they'll reschedule the ride!
In case your starting point to Portorož is Ljubljana, you can choose between different transport options to reach your destination: taxi, bus.
From the airport of Ljubljana you can get to the city center by taxi and continue your journey from there. A taxi ride from Ljubljana Jože Pučnik Airport to Ljubljana costs around 20.00 € to 45.00 €. The best and cheapest way to order a taxi is with the Hopin Taxi app, or simply call one of the taxi services based at the airport.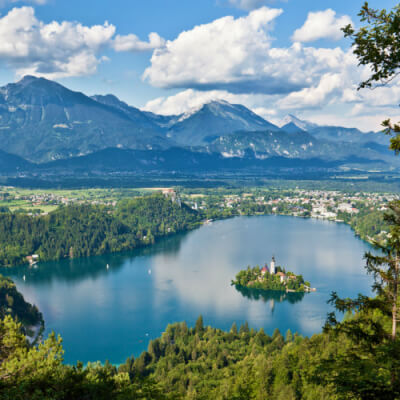 ROADTRIP TO SLOVENIA
Pack your stuff and take a trip to Slovenia. The easiest way to get to and around Slovenia is by car via motorways. A vignette is required and can be bought at any gas station when entering the country. Distances from nearby major cities:
Munich – Portorož 519km
Vienna – Portorož 501km
Milan – Portorož 455km
Graz – Portorož 312km
Zagreb – Portorož 255km
Trieste – Portorož 44km
If you require help planning your trip, send us an e-mail to [email protected]. We will be more than happy to lend a helping hand.
Tickets
What are the ticket prices?
Basic ticket costs 340 € + VAT, All Access ticket costs 440 € + VAT and VIP ticket costs 890 € + VAT. Limited number of tickets are available. Price rises on March 8th, 2020. Find more details about the tickets here: https://www.inorbit.si/register/tickets/
How do I receive a ticket?
After you register for the event and pay the registration fee, you'll receive an order confirmation e-mail with the ticket and an invoice from Eventbrite ([email protected]). That's all you need. When you arrive at the event, show us the ticket and our helpful staff will take care of the rest.
What do I get with Basic ticket?
The Basic ticket includes 2-day full access to the Strategy track and all keynotes. You'll also receive a ticket to an epic inOrbit party.
What do I get with All Access ticket?
With All Access ticket, you'll have 2-day full access to all tracks – Strategy, Deep Dive, E-commerce and B2B. All Access ticket also includes participation at all keynotes and a ticket to an epic inOrbit party.
What do I get with VIP ticket?
A VIP ticket includes 2-day full access to all tracks, and keynotes, a ticket to an epic inOrbit party, fast VIP registration, lunch, coffee, and snacks all day long on both conference days. You'll have priority seats for all sessions, access to VIP lounge with a chance to network with speakers, VIP dinner with speakers on March 20th and one 1-on-1 30 minute post-event deep dive coaching call.
Does the conference registration fee include workshops on 18th of March?
Do we get any discount for multiple tickets from the same company?
The more the merrier! We have sweetened up already great deal with 20% discount when purchasing 4 tickets! This doesn't apply to Early bird prices.
Does the registration fee include air transportation and hotel accommodations?
All costs of air transportation, ground or airport transfers, and hotel accommodations will be borne by the attendee. However, we arranged discounted prices for you. Check our accommodation page.
What's the cancellation policy?
If you can't attend the conference for legitimate reasons but have already paid for the ticket, send us an email to [email protected], giving us more details, and we'll get back to you. You can receive a full refund until 17th February 2020; refunds not possible after 18th February.
Can I transfer my ticket to someone else?
Yes. That's possible until 1st March. Send us an email to [email protected] with your name and company, as well as the name, email address, and company name of the person to whom you'd like to transfer the ticket.
Conference & lectures
For whom is the inOrbit conference intended?
InOrbit has valuable content for every profile of digital marketers. It doesn't matter if you're a project manager, paid advertising specialist, SEO specialist, chief marketing officer or a strategist. InOrbit 2020 will cover a wide range of topics aimed to give both strategic knowledge and in-depth tips and trick relating to specific marketing approaches. The focus will be on growth, especially on consumer behavior, digital performance and digital disruption. Our aim is to equip you with all the knowledge you need to build a successful digital team, department, company, strategy, and activities that will bring you the results you need and grow your business.
What are the conference dates?
The conference will be held on 19th and 20th of March 2020.
For whom is the Strategy Track intended?
Strategy track will contain high-level strategic overviews of upcoming trends and will cover all of the main fields of digital marketing, such as content marketing, landing page optimization, SEO, Google AdWords, Facebook advertising, organic social, marketing automation, digital analytics, funnel management, conversion rate optimization, growth hacking, data management, web analytics and more. The aim of this track is to give participants insights into upcoming trends and best practices in the digital field, so they could plan their digital performance more effectively.
For whom is the Deep Dive Track intended?
The Deep Dive track offers you expert insights into major digital channels and tactics with advanced sessions aimed to provide you with actionable insights, underground marketing strategies, and conversion hacks from successful digital entrepreneurs and marketers to help you take your business to the next level. For this track, prior knowledge is recommended.
For whom is the E-commerce Track intended?
The E-commerce track gives you access to the leading experts from worlds most popular and successful retailers, platforms, tools and agencies. With sessions covering topics like Category management, Chatbots, Amazon advertising, Loyalty, Segmentation and audience building, Google Shopping ads and more you'll gain knowledge and insights necessary to grow your business to the next level.
For whom is the B2B Track intended?
B2B track will be held on Friday and will cover topics exclusively for attendees from a B2B industry.
In which language will the conference be held?
Everything at inOrbit will be in English.
Do you share slides from the event?
We'll be collecting all of the speaker presentations which we are permitted to share and will email all of them to attendees. If you missed a talk you wanted to hear, don't worry – you'll be able to access the slides later. Some of our speakers are bound by copyright or licensing agreements and therefore do not permit us to make their materials available for download.
Other conference details
Visit our accommodation page to find a suitable hotel for your stay in Portorož. All are within walking distance from the venue.
When should I arrive and leave?
We recommend you arrive one day ahead of the conference (on 19th March) as registration will start at 8 a.m. on Thursday, 20th March, and the first lecture will start at 9 a.m.
I don't speak your language, is that a problem?
No. Everything at inOrbit will be in English. Also, there's no need to worry about directions and getting around the city, because most people here speak English.
DON'T HESITATE TO CONTACT US
If you have any questions about the conference, speakers, programme or need help planning your travel to Slovenia, inOrbit team is here to make sure you have a great experience visiting us.
CONTACT INFORMATION
 Stegne 13G, 1000 Ljubljana, Slovenia  
+386 590 75 680
[email protected]
 Everyday 9:00-17:00
Speaker
Do you want to share actionable insights, underground marketing strategies, and conversion hacks with other marketing professionals? Join the stars on the stage.
Apply now
Partner / Sponsor
Since 2015, inOrbit has been recognized as one of the top conferences where excellent speakers share their expertise. Our conference attracts the most influential marketing professionals in the region and is the perfect way for partners to engage with the digital marketing community.
Apply now