Top 6 Things to See in Portorož & Piran
The Slovenian coastal towns of Portorož and Piran are full of exciting things to see.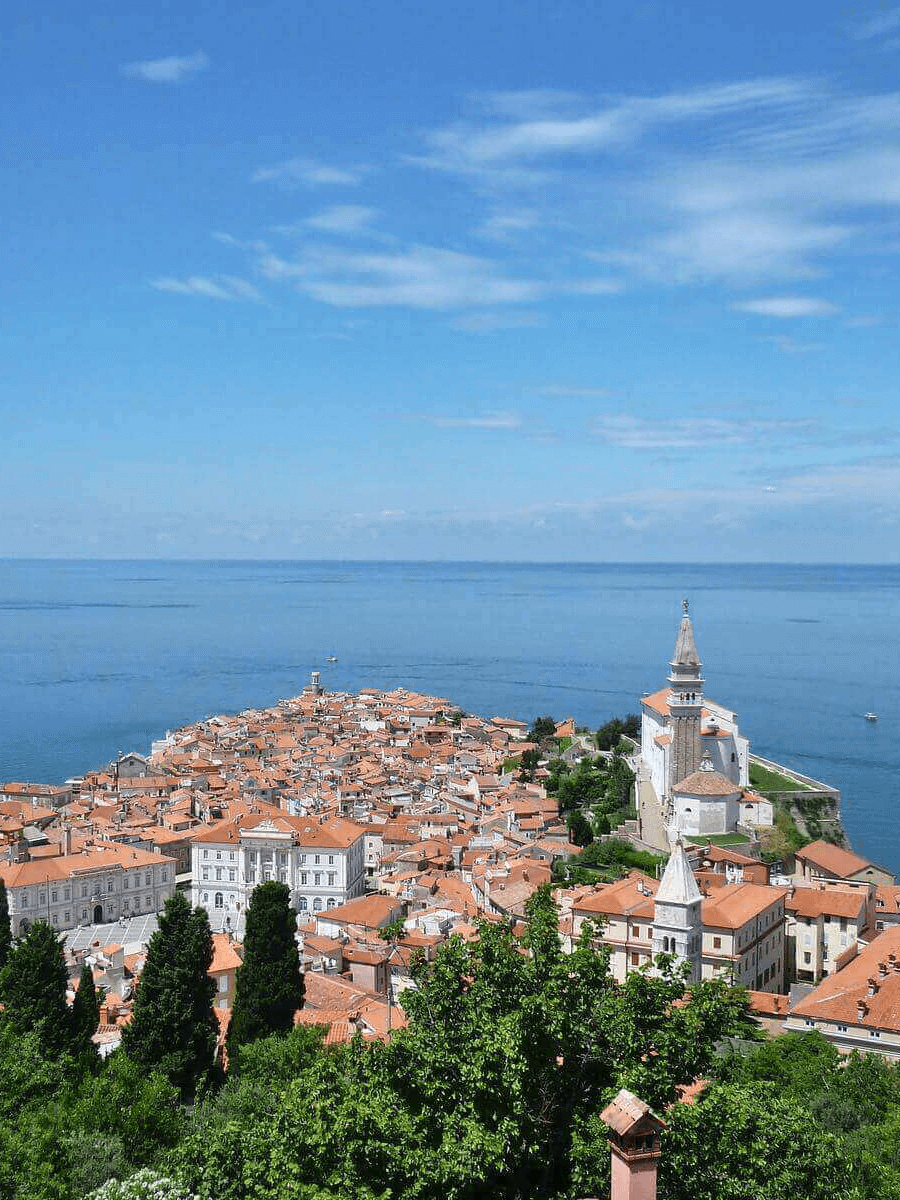 If you are planning to visit the tiny but culturally rich Slovenian coast and you have a day or two to spare, here are a few things you really need to check out in Portorož and Piran, sea sunsets included! May you enjoy our beautiful Slovenian Istria!
Piran Views and Majestic Buildings
Start your day outdoors, in the most romantic coastal town of Piran. At Tartini Square, you can enjoy local shopping, admire Venetian architecture, get acquainted with local history, or simply sit down for a great coffee and watch white boat sails dancing in the breeze of Adriatic Sea. #coffeewithaview
If you stop at Benečanka, the 15th-century gothic house, to buy some Slovenian premium products or stay in one of the romantic rooms, you will hear the romantic story behind its front inscription "Lasa pur dir", or "Let them talk". #qualitysouvenir
Only a short walk uphill through the narrow cobblestoned streets will get you to St George's Cathedral. You might wonder "Why visit another church?" Here's why we recommend visiting: Other than for its architecture, this church is worth viewing for its location. As it's set right on a hilltop, it offers astonishing views of the surrounding Gulf of Piran and in nice weather, you can even see three countries: Slovenia, Croatia, and Italy. #bestselfie
Walls of Piran
Call us history nerds, but we simply cannot pass on Piran's stone city walls and entrance gates from the 7th century. If you don't enjoy tourist-packed areas and the Great Wall of China is too far away for you, this is a perfect, petite alternative. #romanticspot
Forma Viva Portorož (Open Air Sculpture Exhibition)
Attention art enthusiasts! Portorož's green park, Seča, is where you can admire over 130 stone sculptures that form part of the open air sculpture gallery. These sculptures are the work of masons from more than 30 different countries. Look out for the indigenous olive trees of Piran that surrounds the exhibition, and you can't miss the view over Portorož bay. You'lll also be able to notice other sculptures around Izola and Piran. #peace&nature
Portorož Nightlife
Portorož does at least one thing better than Las Vegas: Here, everything takes place by the sea. True, it has a more touristy feel to it than the other towns on the Slovenian coast. Yet, it's still authentic and friendly (to the locals as well). This means a no-muss, no-fuss attitude and opening hours that won't take you too long into the night. However, for those night-birds that are up for a gamble, we recommend visiting one of Portorož's casinos. #nightlife